Interested in joining the HDS team?
Email Resume to info@happydogspot.com or apply in person Monday – Saturday.
Book your boarding reservations now!
New to HDS? All dogs must past a temperament evaluation before booking a boarding stay.

Interested in joining the HDS team?
Email Resume to info@happydogspot.com or apply in person Monday – Saturday.

Like Happy Dog Spot on Facebook
We are constantly posting lots of great pics of your dogs having a great time. Like us!

Daycare
Daycare
Long time alone? Excessive barking or chewing? Let your dog burn off some steam and meet new friends!
Benefits of Daycare
Socialization
Exercise
Safe, fun environment
13,000 square feet indoor/outdoor play space
To ensure the health and safety of dogs in our care, each dog must meet specific enrollment requirements prior to making a daycare reservation.
Daycare Rates
Daycare Evaluation - $28
Daily Rate - $28
Additional Dog (Same Family) - $18
Half Day (up to 5 hrs)* - $18
Multi-visit Packages
5 Visits - $125 - $25/day
10 Visits - $230 - $23/day
20 Visits - $420 - $21/day
30 Visits - $570 - $19/day
All packages expire 6 months from date of purchase.
*Half Day daycare dogs must arrive by 10am.
Enroll Now!
Boarding
Boarding
We provide a fun, safe place where your dog spends the day exercising and playing, then receives the royal treatment in the evening.
All-Inclusive Boarding
All-day playtime from 7am–9pm; mid-day nap time

 on Sundays only

Full-size kennel accommodations (5ft X 5ft or 5ft X 10ft) complete with cot and fleece blanket
No extra fee for standard kennel diet
No extra fee for handling owner supplied diets
No extra fee for administering medications
Sunday pick-up times available
Same rates year-round – No "Holiday" or "Peak Season" premiums
To ensure the health and safety of dogs in our care, each dog must meet specific enrollment requirements and pass a temperament evaluation before booking a boarding reservation. The opportunity to become familiar with our staff and facility prior to an overnight stay encourages a positive experience and helps to reduce the anxiety sometimes associated with traditional boarding.
Boarding Rates
Nightly Rate - $39
Additional Family Dog - $35
Half Day Boarding Rate - $20
Standard Kennel Diet - Included
Probiotic Supplement - $1 per dose
Dogs picked up after 12:00pm will be charged a Half Day Boarding Rate.
FREE Trial Night
Happy Dog Spot offers a FREE Trial Night of boarding to help to alleviate any anxiety you or your dog may have about boarding for the first time prior to an extended stay.
Free Trial Night is scheduled by appointment only.
Each dog must first pass the temperament evaluation and trial day of daycare prior to scheduling a Free Trial Night.
Frequent Boarder Package
Do you board your dog frequently for short stays? Purchase a 10 night boarding package for $370.

Boarding packages expire 6 months from date of purchase.

Dogs picked up after 12:00pm will be charged a Half Day Boarding Rate.
Enroll Now!
Boarding rates effective May 1, 2016.
Grooming
Grooming
Let us give your dog a little spruce up after a day of playing or an overnight stay.
Full Service Bath and Brush
Our Full Service Bath and Brush includes the following services:
Massaging Shampoo
Conditioning Rinse
High-Velocity Blow Dry
Hand Brushing
Trimming of Feet and Feathers
Sanitary Trim
Nail Trim with Grinding
Ear Cleaning
Call to schedule an appointment today.
Bathing Rates
< 30 lbs - $20 - $30
30 – 49 lbs - $30 - $40
50 – 79 lbs - $40 - $50
Over 80 lbs and Giant Breeds are quoted on a case by case basis.
De-Shedding Treatment
Our De-Shedding Treatment takes the Full Service Bath & Brush a few steps further. Special shampoo and conditioner helps to release the undercoat and improve overall coat condition. Additional steps are taken throughout the bathing process to remove more of the undercoat and reduce excess shedding.
Up charge to Bath Brush Service - $10 - $30
Extras
Nail Trim (includes grinding) - $12
Trim Feet - $5
Ear Cleaning - $5
Anal Gland Expression - $5
Teeth Brushing - $5
Trimming - Other - as quoted
Extra Brushing/De-matting - $25 per hour
Call 314-963-PAWS (7297) for Appointment
Training
Training
Training classes are more than having a well-behaved dog, they are a great way to exercise your dog both physically and mentally.
Obedience Classes
Agility Classes
Agility Level 1
Wednesdays from March 29th to May 3rd

|

8:00pm
In this 6 week course, dogs (and owners) will learn about the different types of obstacles in dog agility, and how to properly and safely execute each.   Weave poles will be introduced and practiced at each meeting.   All exercises will be worked on both sides.   Easy drills will be used to assist in handling and obstacle performance.  Short sequences might be introduced towards the end of the session. Class size is limited to 8 participants.
6 weeks for $120
Enroll Now!
Agility Level 2
Wednesdays from May 10th to June 7th

|

7:45pm
Wednesdays from June 14th to June 28th

|

7:45pm
In this class, work will continue on proficiency in all standard agility obstacles including weaves.  Short sequences will be strung together to start building independent obstacle performance.   Working both sides will continue to be stressed along with proper rewarding for obstacle performance.  More drills of varying complexity will be used.  Sequences will be lengthening as the session moves forward. Class size is limited to 6 participants.
3 weeks for $60
Enroll Now!
This class is an abreviated 3 week session.
Agility Level 3
Much of the agility work in this 6 week course will be done off leash.  Handler control is a must.  Obstacle discrimination and handler crosses and cues will be stressed.  Handling drills will continue to improve handler and dog communication and understanding.  Generally short courses of 8-12 obstacles should be expected. Class size is limited to 6 participants.
6 weeks for $120
Enroll Now!
Agility Level 4 – Advanced
Wednesdays from April 26th to June 7th

|

6:45pm
Wednesdays from June 14th to June 28th

|

6:45pm
In this more advanced 3 week course, trickier and more difficult sequences will be introduced with several different options for appropriate and efficient handling. Class size is limited to 6 participants.
3 weeks for $60
Enroll Now!
This is an abbreviated 3 week session.
Private Training
Training Policies
Vaccinations
Proof of current vaccinations (Rabies, Distemper, Bordetella) is required prior to attending first training session.
Refunds
Owners purchase an enrollment with a commitment of honoring each appointment and to working with their dog at home throughout the week and between class sessions. No make up sessions are offered for missed classes at this time. Refunds will be made on a case by case basis at the discretion of Happy Dog Spot.
In the event there are not enough dogs registered for a scheduled class, the owner will be notified that the class will be rescheduled. If the rescheduled day and time is not agreeable, a full refund will be made.
No Guarantee
Every dog is an individual and the success of ANY training program, no matter how good the instructor or materials, is dependent on the owner/handler's interaction, relationship, amount of practice, and level of commitment. Happy Dog Spot has no way to control these factors and therefore cannot guarantee any final outcome.
About
At Happy Dog Spot, we want you and your dog to feel like family. You want what's best for your dog, and we do too.
Happy Dog Spot has watched over our two greyhounds since 2007.  We have used the daycare and overnight boarding services regularly.  We know our dogs are tended to personally as they love going there.  The staff at HDS know the personalities and needs of our dogs and go out of their way to accommodate them and us…  We are very fortunate to have found great friends and support at HDS.
Keith W. & Carmen Q.
We could not have found a more friendly, affordable place to leave our dog during extended family vacations. Happy Dog spot offers a clean friendly environment with lots of play time and space to run and play. The awesome staff  is always friendly and caring with all the dogs and their owners. I always walk away assured that my dog will be well cared for as if she were one of their own.
Sara W.
While we're at work, it's a wonderful feeling to know that our Yorkie dog is in a safe and secure environment.  As he is a rescue dog, he is now much happier and healthier since coming to HDS.  We can't thank the staff enough for their time and attention they give him and us.  He really enjoys his time there and is a very happy dog when he comes home after a busy day of play.
Phil H.
Kairo is not only happy after his day at Happy Dog Spot, but he is thoroughly exhausted—he comes home ready to eat his dinner and naps while we eat ours!  The staff at HDS have taught him to be more obedient, as well as his increased social skills with the other dogs give us total peace of mind.  We LOVE everyone at HDS!!
Linda H.
Genny gets so excited when we pull into the parking lot that she literally drags me up the stairs and runs into the back with hardly a backward glance at me. Tracy, Copper, Diane, and all the staff genuinely love our girl, and you can tell! She has stayed at HDS probably a couple dozen times, and I continue to be very pleased.
K. Hite
Clean, Positive Environment
We designed our 10,000 square-foot facility in Rock Hill to provide a clean, safe and enjoyable experience for all types of dogs. Our unique design allows dogs to roam freely between our indoor play area and our 3,000 square-foot outdoor area, while providing a comfortable space for older and less active dogs. We focus on lots of stimulating, interactive play for your dog. Game of fetch anyone?
Personalized Care
We personalize care at Happy Dog Spot. Every day, we create a play space for both active socializing and quiet relaxing. Our staff takes the time to get to know your dog's personality and individual needs. We evaluate every dog to make sure Happy Dog Spot is a good fit, and create a personalized care plan that works for you and your pup.
Safe, Structured Play
With certified veterinary technicians and experienced attendants on staff, we provide safe, structured care for dogs of all personalities and social skills. Stop by anytime to check out the fun!
Great Choice for your Family
At Happy Dog Spot, we want you to feel confident in your dog's well-being and quality of care. We offer the same benefits to all dogs:
Experienced, personalized care
Certified vet techs on staff
Low dog-to-staff ratios
Safe, comfortable indoor and outdoor play
Comprehensive daycare, boarding, grooming and training services
Admission Requirements
Is Happy Dog Spot is the right spot for you and your dog? 

Complete Online Enrollment Form to schedule an evaluation day
Provide proof of vaccinations (Rabies, Distemper, Bordetella and Canine Influenza)
Puppies should be at least 12 weeks old and have minimum of 3 rounds of puppy shots
Dogs older than 9 months of age must be spayed or neutered
Pass a temperament evaluation
Our Staff
Our staff includes professional trainers, certified veterinary technicians, and experienced attendants who love dogs and want to provide a great experience for your family.  Our staff takes the time to get to know your dog's personality and individual needs, then creates a personalized care plan that works for you and your pup.
We look forward to meeting you!
Betsy Boedeker
Agility Instructor
Betsy has been competing at local dog agility competitions since 2011 and brings a unique perspective on competing with her mixed breed dogs, Mathilda and Oliver. She has trained with most of the area's local agility instructors over the years. While there have been a few setbacks, namely injuries, Mathilda continues to compete at the ripe age of 10 at the highest level in AKC sanctioned events. Mathilda's canine brother Oliver is also well-versed with dog agility, but unfortunately does not perform well in the trial environment.

Both dogs have been great teachers for Betsy - a bold, fearless crazy dog, and a sensitive, extremely cautious dog, provide an endless supply of lessons for learning. This has mostly served to improve Betsy's handling abilities and overall understanding of canine behavior.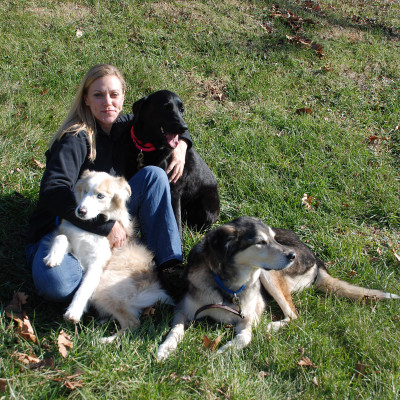 Tracy Adams
Owner
Since Happy Dog Spot owner Tracy was a little girl, she knew she wanted to work with animals. Growing up, her family had many pets: dogs, cats, guinea pigs, and other animals her mother raised in her kindergarten classroom.
After graduating with a Bachelors degree in Biology from the University of Kansas, Tracy worked for several years at Washington University on the Human Genome Project. Her career then took her to Orion Genomics where the company focused on plant genomics and cancer diagnostics. As a program manager, she learned how to run a business while working with a strong team. But she did not stop thinking about her dream to work with animals. In 2007, she used her business experience, years of volunteering as a Veterinary Technician at a local animal hospital and her science background to open Happy Dog Spot. Her philosophy was simple: provide an open, caring environment for dogs using a great team of experienced staff.

Tracy knows every dog has different needs. Some dogs want active, social play, some want quiet relaxation, and some want both! She designed Happy Dog Spot to fit most dog's needs, with plenty of space to run around both indoors and out, and a quiet area for rest and relaxation. All dogs at Happy Dog Spot enjoy interactive, personalized care. She and the team take time to get to know every dog's personality and design a daycare and boarding experience that works well for each dog.

Tracy loves the Happy Dog Spot community, and the families have given back to her in times of need. In 2010, Tracy was diagnosed with breast cancer and underwent treatment. She is humbled and amazed at the support from her Happy Dog Spot families and friends.

Tracy's black lab Maggie, though completely blind, often greets clients in the office with a happy face and a wagging tail.
Contact
Email:
info@happydogspot.com
Office Hours:
Monday - Friday
7:00am - 6:30pm

Saturday
8:00am - 4:00pm

Sunday
10:00am - Noon; 5:00pm - 7:00pm

Holiday Hours
New Year's Eve: Office Closes at 6pm
New Year's Day: Office Closed
Memorial Day: Office Closed
Independence Day: Office Closed
Labor Day: Office Closed
Thanksgiving Day: Office Closed
Christmas Eve: Office Closes at 5pm
Christmas Day: Office Closed